Exhibitors incl.
-Exhibitors updated 24.3.2020-
A-klinikka Oy
AIRTOX Industries A/S
Aluehallintovirasto, työsuojelu
Amazing City Oy
Ansell Healtcare Europe NV
Ariteks Boyacilik Ticaret ve Sanayi As
Ask Työhyvinvointi
ATS Oy ATEX-Workwear
Avominne Päihdeklinikka
Basam Books Oy
Biohit Oyj
Blåkläder Oy
BockMann Finland Oy
CleanSpace Technology
Desperado Clothing Oy
Dräger Suomi Oy
Eazybreak Oy
EcoOnline Oy
Ehkäisevä päihdetyö EHYT ry
Ejendals Suomi Oy
Enmac Oy
Ergolift Oy Ab
Etra Oy
Etra Oy
Exerium / Suomen Kuntoutusvälineet Oy
Finnlift Materiaalinkäsittely Oy
Finnpace Oy
Finnsafe ry
Foxa Oy
Fysioline Fressi Oy
Gasmet Technologies Oy
Granberg Sverige AB
Grolls Oy
Haikon kartano
HAIX®-Schuhe Produktions- und Vertriebs GmbH
Helly Hansen Oy
Hexaplan Oy
Hultafors Group Finland Oy
Hyvinvointi- ja vapaa-ajankeskus Kunnonpaikka
All Exhibitors ›
---
In cooperation with: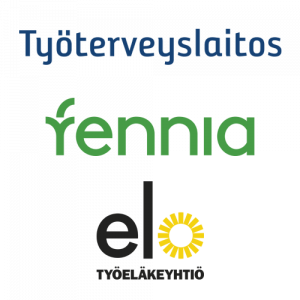 Main cooperators
This event is held in cooperation with Työterveyslaitos, Fennia and Elo.


13.–15.9.2022
Tampere Exhibition and Sports Centre, Finland
#Tyohyvinvointi
Work life is constantly changing and work is transforming. The Trade Fair for work place welfare focuses on the importance of well-being in terms of competitiveness, reputation and profitability for both the individual and the company. The themes of the event are leadership, change, work exhaustion and interaction between work communities. Wellbeing at work is a multi-professional collaboration and we share the responsibility for the best result.
Trade fair for work ability and workplace welfare: Join us now!
Reserve stand ›
Opening hours
Tuesday 13.09.2022 10:00-17:00
Wednesday 14.09.2022 10:00-17:00
Thursday 15.09.2022 10:00-16:00