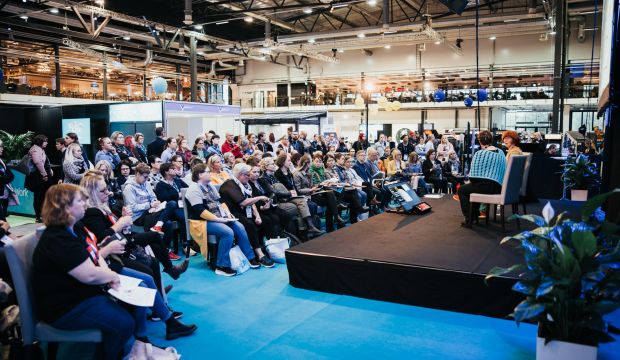 Meaningful encounters at successful professional events
Press Release 21.09.2022
The international professional event for occupational safety – and the largest personal protection fair in the Nordic countries, EuroSafety, as well as the professional fair for work capability and occupational well-being, Workplace Welfare, will be organised between September 13–15 in Tampere and gilded with meaningful encounters. The three-day duo of events is complemented with the topical issues brought on by the fairs of Food and Drink and Logistics. These professional events had been sorely missed and they provided – in addition to know-how and latest solutions – great programmes, happy reunions, and unexpected encounters. During the three days, the four events saw a total of 7,836 visitors.

– The experiences from the encounters have, by far, been the best thing at these fairs! People take genuine interest in matters, the encounters are full of warmth, and the discussions are great! It goes without saying that people have had a bottled-up need for encounters. The discussions are much more in-depth compared to remote meetings, and the encounters we have had still continue to provide food for thought. Here at STYL, we place great importance on being committed to occupational safety, advancing matters, and continuing to develop the field further. The membership stickers you see at the stands speak volumes of competence and professionalism, and this makes us especially proud, says Chairperson of the Board for the Finnish Work Safety Association Hannele Nyholm.
EuroSafety will be organised in cooperation with the Finnish Work Safety Association (STYL).
Humane working life
The Workplace Welfare fair charmed everyone with its human-centric approach and the resulting atmosphere. The leadership pioneer Sitomo participated in the fair for the first time but swears that it won't be their last visit.
– The atmosphere here is really amazing! All through the event, we have talked about little else besides how great it was that we decided to join. The surprises we have had have been positive in more than one respect, there are people from all over Finland here and they are just the right target group for us, great encounters, networking, and even first steps towards new customerships! We can feel that people, whether exhibitors or visitors, truly want to be a part of this and discussions have been anything but cursory. We are sure to come to the next event too, and we are already looking forward to it happening, executive, marketing, and customer coordinator Erika Kahilainen of Sitomo is happy to tell us.
Unparalleled array of programmes
In addition to face-to-face, real-life encounters, the event package received thanks for the fresh and diverse set of programmes. In addition to the professional experts from their respective fields, there were terrific talks from people like champion coach Jukka Jalonen and the nation's most experienced travellers, Riku Rantala and Tunna Milonoff.
– What I have especially liked is how the events have clearly aimed for a total experience on a broader scale, and it has not been all about the stands. I also love the idea of organising several different events supporting one another simultaneously. Visitors have been really active and brought life to the halls! thanks Nyholm.
– The programmes were wonderful, and it was great to invite people at our stand to come and listen to our talk. That was yet another great experience, with the super-active audience taking part and filling the seats, Kahilainen confirms.
The fair was like a happy reunion
After a few years of no events, the fairs received many thanks and saw many happy fairgoers. The visitors were also deemed of high quality and being genuinely interested in the field, issues, and solutions.
– For us, these fairs were really good and right now we are feeling equally great, we're overjoyed. The visitors were wonderful, and we felt that we could focus on both our existing customers and new, potential clients. The target groups were just right for us and a lot of decision-makers and people responsible for safety wandered the halls. Event arrangements worked great, and the programme was of high quality. You could clearly see how people were eager to meet one another after a long pause. We have been going to these fairs for years and yet we also felt happy, almost like it was our first time ever, says Sales Manager Petri Kesti from Skydda Suomi Oy.
The next EuroSafety and Workplace Welfare events will be organised on September 10–12, 2024.

ADDITIONAL INFORMATION: eurosafety.fi #eurosafety #safeandsound
tyohyvinvointimessut.fi/fi/ #työhyvinvointi #ihmisellistätyöelämää
Tampere Trade Fairs Group, tampereenmessut.fi
Jani Maja, Sales Manager, Project Manager, tel. +358 50 356 1325, jani.maja@tampereenmessut.fi
Sirkka Laine, communication specialist, tel. +358 40 612 9081, sirkka.laine@tampereenmessut.fi